TALK TURK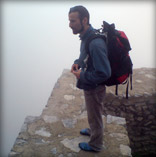 Our Turkish friend standing on the wall of Babak Fort.

flickr View my photo journal
"We only have chicken kebab", informed the waiter as we sat at an uncleared table of a rapidly emptying restaurant part way up a mountain. Whether this news meant that our previous alternative of eggs was no longer coming we were yet to find out, but things were looking up as when we entered they had nothing to offer at all. Between this Mad Hatter lunch ordeal our traveling team was united with its needy pillar as our previously unseen guest had finally found us. We were to play host to a Turkish tourist during our three day excursion to Iran's Turk (known as
'Azeri'
to the locals - as in, relating to Iran/Azerbaijan) regions – making the most of yet another Islamic holiday.
Our rendezvous arrangements proved as backward as our lunch arrangements as we missed our new friend in the main city of
Tabriz
and had to guide him to an early stage of our trek. His arrival couldn't have come sooner, he became the key needed to unlock to mystery of the local behavior. As he arrived our soup arrived, one single large bowl of it - at the beginning we wanted soup, then they didn't have any, then they didn't have anything - now we had soup, no eggs and everything we'd initially ordered, including the previous customer's food that still hadn't been cleared.
It should be noted that the Turks are to the Iranians what the Irish are to the English and as we settled up and headed off the many
Iranian jokes about the Turks
started to gain credibility.
We were like some comedy outfit, one deaf and one blind, getting results in a slap-stick style
In theory our newly found friend was to be guided by us Iranian folk as he upturned the stones of Iranian culture, yet things went much the other way round. The regional language is Turk, of which 30% of Iran speak (including my family), not the Farsi that we city kids speak. Of course, our new friend can't speak Farsi but his mother tongue is Turkish, which is maybe over 90% the same as Turk, forgiving the kooky accent. Thankfully however we all spoke English and for a rare occasion I was the good all-rounder, knowing a shameful amount of each. Between us we made a triangle of entertainment for the locals, discussing in Farsi, conveying in English and presenting in Turk - only to then do it in reverse. We were like some comedy outfit,
one deaf and one blind
, getting results in a slap-stick style.
"Don't be tired", "don't be tired!", and then another group of trekkers passed, "don't be tired", I politely state again. This aroused outbursts of laughter from our new friend with each kooky Turk tone that came from me. I was sincere, it's what we do when hiking, maybe it was the fact that I had no idea what was being said back at me. During this hefty hike we all became acquainted as we guessed our way through the cool cloud covered mountain. Our new friend is blessed with warmth and honesty that allows for his charismatic and sometimes over-familiarity to escape evasion. Most of the trek he would be in some way attached to us, or even passers by - he was as comfortable with English as he was with his hands when talking.
Our trek was to take us to a place called
Babak Fort
, a historical location known for a time the locals fended off the Arabs. The site was hidden by winding paths, steep climbs and also low cloud during our assent - thankfully the cool moist air took the strain out of the climb, gathering in our hair like dew on a spiders web. We deceptively arrived on several occasions of which I'm sure was the intentional design, yet upon our eventually arrival there was little to see. I mean, literally there was little to see, 5-metres ahead was what was available to our eyes and that which could be seen was restoration work.
Groups of trekkers joined us in this short lived relief, snacks and drinks were had as at least three mobiles squealed out traditional songs. A group of odd haircuts and clothes played the worst of it, between their chats and sing-alongs they cleared the plastic remains from previous visitors. "Is that Mostafazedeh...?", asked our musical buff in Farsi, "Talk Turk!", replied the haircut in Turk before they reached a chorus in unison. In response to this hostility our new Turkish friend's hands came out the pocket again and connections were made - it appeared that we'd stumbled upon the Azeri separatist. There was a long trade of words between the Turk and Turkish neighbours, a lot of touchy feely yet understanding seemed to be met. "What was that all about?", I asked as the deaf man to the blind. "I'll tell you later", he responded as I led us back down the mountain. br> br>
Labels: Azeri, Babak Castle, friends, holiday, Iran, language, restaurant, Tabriz, Turk