FOUND HEART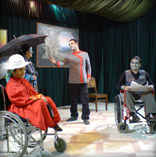 In position for the shoot.

flickr View my photo journal
"Close your eyes Daveed, look up Daveed, press your lips together Daveed, look down Daveed", the makeup artist requested as she poked and prodded various devices at my face, "what's your eye discrepancy? Me too, can I wear your glasses; I forgot mine?". What a strange job for Iran I thought to myself as the face staring back at me gradually resembled my favourite character in the Wizard of Oz, "you must be one of few in this trade in Iran, I mean, you must be spending more time making-down than up", I curiously asked. She responded with an anecdote of a film she worked on in which a scene was scraped as the chicken on the table looked "too erotic".
Another cigarette break saw her on the chair complaining of back pain; something about a car being lifted when she was eleven. I looked around the room with a sense of awkwardness, two of the audience were wheelchair bound, one of which had just minutes before stared at my hand as I went to shake it; unable to move much below the neck. A young observer kicked a bin across – it slid just in place for the falling ash – before he continued his swaying back an forth between the various helpful moments. I noticed his odd shape, like his arms were firmly crossed with every maneuver; it looked oddly arrogant. It was only when the phone rang and I saw him chin the receiver to his shoulder that it came to me – the guy has no arms; cripes, I thought as I imagined my daily routine without arms. A coincidence I thought; my face was caked in makeup for which I could not touch no matter how much it itched – what does he do when he has an itch, needs to piss, change clothes and what breaks his fall. "Can I take a photo of you?", he asked as I saw him with a mobile wedged between his big-toe and next-toe. And so my photo was taken as he balanced on one leg and somehow pressed the correct button from the other. "Look; not bad!", he joyfully stated, having rotated the handset to show me the results.
A few days prior to these scenes I'd nonchalantly agreed to partake in a photoshoot on behalf of a local client. Oblivious to what was planned, I'd turned up obscenely early for work to then join colleagues on bus journey to the south of Tehran to a place known as Kahrizak (derived from the name of the charity), a place better described as a large megaplex, housing 1700 variably challenged Iranians and 700 rotating staff. We'd been requested to provide an advertising campaign that didn't focus on getting donations of money – for apparently this was in plentiful supply – but rather on asking people to give there time and love.
Having been made-up, we made our way round to the theatre in a golf buggy wearing the label, 'donated by LCS, London England'. As the manageress dodged the wheelchairs being pushed around by the slightly more able, I was amused at how it was I that was being stared at; I heard echos of my mother, "David, don't stare!", yet it was I that was the odd one out with a silver face and a Star Trek tunic.
"Look into her eyes; you know, this is the woman you long for", enthusiastically requested the shoot director as we arranged ourself on stage, "yes, reach your hand out to her", he added as I jokingly brought out the thespian in me. If only he knew the existing office gossip about me and the colleague that he asked me to connect eyes with for an uncomfortably long period, "yes, that's it, you want her!".
"Excuse me, can you put my leg back on the rest?", asked the man whose hand I couldn't shake, "oh, and can you readjust the newspaper in my hands?", he added between the director's shuffling of the wheelchairs back and forth. What the photographer didn't capture, the toes of the no-armed guy did as we moved to a new arrangement, "now you're angry; point at her; shout at her!", I was instructed, "yeah, you screwed up on that Renault account!", I shouted as she turned to ignore me – just as instructed.
We were buggied to the MS centre for which everybody felt the need to remind me, "this is the MS centre", with a deliberate pause following. This section of the shoot didn't involve me so I took great amusement in walking around and being stared at, like some visiting clown. I joined my fellow protagonist and another female colleague in what they referred to as 'head hitting' – a euphemism for paying visits I assume. "Hello, we're here doing a photoshoot...", explained my colleague as she entered each room. I would wait outside initially; we were in the women's section, "we have a man with us, is it a problem if he comes in?", she would ask on each occasion.
With each room I was surprised at their surprise – ah yes, I look like the Tin Man I had to remind myself
With each room I was surprised at their surprise – ah yes, I look like the Tin Man I had to remind myself. The first two girls perked up for the occasion with one reciting cheeky poetry as she lay before us, each word struggled to pass her lips as her eyes spun like fruit machine wheels. The next room was not as severe and the one after held a delightful sense of humour – how they transformed as we entered – TVs were immediately switched off and smiles bridged the little skits they performed for us.
The last 'head we hit' had a performer who battled with severe convulsions, "you turn the TV off, let me put the music on", she asked as she shook the stereo into giving us the pop, yet slightly traditional sounds of Pourya. Upright on the bed, she shimmied back and forth not missing a single word with each song. We joined in, cautious to not alert the staff, "don't tell them", she whispered, "it can be our secret". The Tin Man had been oiled-up and pulled out a few moves to the first, second, third and forth song. Our performing resident was playing Pourya, pointing at me – the subject I guess – with each reference, "I can't live without you", she nodded to me with a wink.
"Shall we go after this one", I asked my colleagues in English, "what?", asked the girl. I lied in response, "I was saying, c'mon, let dance!". I was convinced that we'd repeat the album again and my colleague seemed to not have the heart to break the performance – one of us had to be brave.
Our reason for being there, at Kahrizak, became clear to me at that moment as a difficult goodbye was made. "In one month!", protested the girl as we told her we'd come again. "You know Daveed, she's the same age as me", my colleague added as we walked away, but she was courageous; not dropping a tear over her stage makeup. And me, I guess I found my heart; I guess I'll go back.