SOCKS SOBS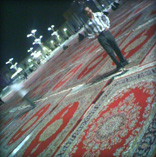 A trip to Imam Reza's mosque in Mashad last year during Ramazan.


flickr View my photo journal
"How was it?", enquired the carpenter as we exited the sports-hall-cum-auditorium. I held my words, partly to convey a more digestible response but also as I was still digesting the scenes we'd witnessed. "It wasn't Shakespeare", I answered. "Shakespeare means what?", responds the carpenter.
Witness statement:
A person with a green cloth obscuring their faced was attacked while praying. A man had struck the praying person over the head with a sword before escaping with his accomplice. Another person with green cloth obscuring their face was first on the scene before many further obscured people arrived. Mostly female sounding people covered in black sheets (with faces also obscured) screamed and repeatedly fell to the floor. The victim was taken to a place with further people whose faces were covered in green cloth. Several obscured people arrived and screamed, occasionally falling to the floor after hitting their heads with their hands. The victim died and was wrapped before being taken away.
I'm roughly familiar with the story of Imam Ali's parting days, the anniversary of which migrates with Ramazan through the year, yet no further enlightened after the play. The slow paced narration was sung out across the sports-hall to an accompanying band – tricky to make out among the increasing sobs of the separated men I sat with.
The socks distracted me again as a crying baby was kicked out. Socks and sobs
Security would make frequent trips to glowing mobile phones among the crowd, negotiating the neat rows of whimpering men. I sat cross legged with my shoes in my hands as warm socks passed my face, and those of many others, "turn your mobile off!". The socks distracted me again as a crying baby was kicked out. Socks and sobs. Another pair of socks and an increasing frequency of sobs.
Shakespeare it wasn't but I've yet to see an audience of Shakespeare bring grown men to tears. But then I guess Shakespeare's fiction has a different aim.