OLDER CHILD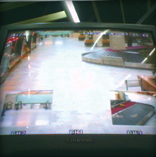 CCTV luggage hall.


flickr View my photo journal
"Guess who's coming today?" ask my younger brother while passing me at the ironing board where I readied my shirt for our special guest. "Er, the
Mahdi
?" I cheerfully responded considering it was five in the morning and I'd not slept. My father, who was pacing around in the background greeted me with his first words - a mixture of mumbled Farsi and strong English hit my ear. "I've told you, don't talk about politics or religion" he firmly instructed before proceeding to inform me that I have too much shit in my mouth. This moment was to set a stale mood for what was going to be an eventful day. I dismissed his words and also the many responses that had built-up and merrily continued ironing - working on the crease I just left imprinted.
I get excited when I visit Tehran's main airport
Mehrabad
, my ears prick and my nose rises in lame hope of sensing something English. Although my visit would take me to the arrival section I flirted with the departures desk knowing that a few steps forward would essentially mean England. As the delayed sign flashed for BA6633 my brother and I larked about, fueled by the excitement of what was to come and helped by the lack of sleep - we irritated travelers nearly as much as the circling vehicle that sped between uniting family to wash the floors. Unlike most airports I've been to Mehrabad has CCTV showing the luggage hall for families and friends situated at the arrivals exit, yet just as BA6633 was at passport control the empty luggage hall turned to a
Mexico '86
Argentina game.
"She's here, that's her" shouted my brother during a odd silent period. I looked in the empty corridor expecting this to be more of the larking about but indeed he was correct. My sister had somehow managed to be the first and seemingly the only person to exit from BA6633. I was overjoyed and lost for words choosing to break the silence with a witless comment about her headscarf. She looked exhausted and confirmed that she had not slept either. I was honored and immediately begun fussing, thinking of all the things that once puzzled me and making sure she would not be confused as I once was and probably still am.
After 25-years of absence, my older sister has decided to join me and the family in Iran for a two-week holiday. Like me 3-year previous she is without the Farsi but with the advantage of my words and pictures since that time. Whether it was the lack of sleep or my sister's well travelled eyes that made her so calm during her first day I'm not sure but she politely told me that my being present was reassuring. It was much the same for me too I thought to myself.
After gifts were given and tea drank we set out in the fine weather to Park Mellat near my father's house. We detoured to browse through a mostly closed clothes shopping arcade nearby, inside which I had the horrific realisation. My sister's arse was shining like an apple with only her jeans to hold it in. I had prepared her with headscarfs before she arrived but forgotten the
manteau
, an elongated shirt that covers the rear in an attempt to rid women of femininity (surely a glue-on beard is more effective?). This oversight was embarrassing for me and I felt the gaze of every person we passed, frowning upon both me and my sister until we purchasing the appropriate equipment.
We later paid a visit to my grandmother's house where many of the Iranian bound family joined to catch up on 25-years of events. I tried my best to play the role of translator while I simultaneously described the family that she barely knew existed. My sister is a very confident and organised character for which I forever feel in her shadow, she is normally first to do things in the family and this I feel has had an odd effect on my character, yet for one rare occasion I felt I was the older child, I was the first and it was now my responsibility to look after her.