WHAT HAPPENED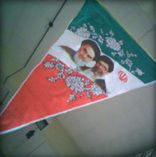 Khomeini bunting.


flickr View my photo journal
"What happened?", I asked to my friend who had stopped the car to ask for directions back to Tehran after having kindly offered me a lift. I was confused - it seemed that two people had made an effort to put us back on track: a man on the streets, verbally providing details and another man in a car (also caught in traffic) writing it down on paper. "Why, were you apologising so much to the gentleman in the car?" I later added whilst wondering why he went to the effort of writing down the directions, yet not bother to pass them on. After a short period of silence my friend replied, "The guy in the car beside us was a Basiji, he was writing the car details down". "What did you do?" I nervously asked, only too aware that it is often irrelevant. "My headscarf slipped back", she answered. It seems that this plain clothed driver was a Basij member and had noticed something we hadn't: that my friend's headscarf had in fact slipped back a little.
As it turns out, this gentleman was not a Basij member but rather a member of a more curious set-up, the Nirooyeh Entezami Naja, whose responsibilities lie with protecting the Islamic way. They seem to fit somewhere between the military, clerics and police - occasionally armed, with police powers yet apparently strictly Islamic. While I am here, the Basij is also a confusing outfit and difficult to explain. Their function is not particularly black and white yet their power seems vast. They seem to also fit somewhere between the military, clerics and police - assuming elements of all yet only in the name of Allah and not necessarily towards the government like the Nirooyeh Entezami Naja. I will explain further on this organisation another time however as currently I know too little and it is probably unsafe for me to go any further.
Strictly speaking I'm not actually allowed to be in the company of a non-family female like I was that night and at the time I thought that we were about to have to pull-over and explain how we knew each other. I enquired with my friend as to what exactly can result from such scenarios, yet she was not entirely sure herself. She only replied that it may range from a warning, maybe lashings or even jail-time. I've heard many stories of the variety of bizarre reasons as to how someone can get in trouble, yet if bribery can't help you (as it often does), don't cry for god's as he seems to be the one you've upset.
This event had happened three weeks ago and at the time I managed to calm my friend down by assuring her that the conditions where not favorable for this gentleman to get the number plate details and that maybe he was just trying to play the big guy. This however wasn't the case. My friend's father was visited by an army soldier which subsequently led to her having to provide a statement at some official building. The following day she had to relinquish her license and the car (which was actually her father's) to the pound for one week.
These stories have been getting closer and this night was the closest I've came to trouble. I'm sure however that it is only a matter of time before I am directly involved. I say this because I firstly am so ignorant to the laws here yet also because it is so easy to stumble into trouble, even when one is acting as is required.