MORE CLOTHES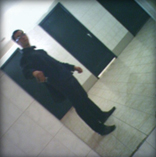 Like this is fine.


flickr View my photo journal
I'm always mildly amused by the comments made about my limit wardrobe (albeit consciously limited in variation) especially when it is common place for the Iranian folk to wear the same clothing for around 3-days running. The other day I was once again subjected to a public bashing regarding my clothing choice (on a day that my clothes were relatively varied) and was quizzed about the jacket I wore. I proudly stated that this was my father's some 30-years previous, which was met with the same stale faces that glared in disbelief when I said I'd been shopping in second-hand stores. To hide the shame I brought on upon family, my uncle loudly announced that his son in-law would take me shopping - no expense spared. As much as I felt the urge to explain myself, it wouldn't have resulted in anything and besides, more clothes would come in handy.
So the following day I joined my uncle's son in-law for a trip to Ferdosi - Tehran's exceptionally large clothing mall with maybe 200-shops, at a guess. To get there we travelled through Tehran by motorbike-taxi, which - granted - is a fast way to travel the city, but, is also fast way to invite death. On top of the dangers found on Iranian roads we were further in danger by being three to a small motorbike (no helmets), weaving through dense traffic with our knees knocking the odd car here and there. Oddly enough I found this most enjoyable and likened it to the open-top bus tours found in London.
It appeared that we had an incredibly large budget for our expedition, yet a very short amount of time - this was made shorter still by our poor knowledge of each others first language's. It's worth noting that in Iran it's pretty much universal for shops not to price their goods, thus bringing the art of haggling, which is always made harder by the presence of any English. Often I am asked to not speak when out buying goods and if I'm unlucky enough to be alone when shopping then things can get very expensive. Although there was a vast range clothing available, with many familiar brands, I struggled to find anything I liked. This was maybe more of a reflection of my preferance - no logos, no patterns, not "distressed", torn, frayed or creased... and preferably black (red at a push). These are the rules that normally make shopping a quick and painless affair - without these guidelines the variables become too much and my mind implodes under the weight of too many questions.
After this semi-successful shopping expedition, my uncle's son in-law popped me in a taxi, giving the driver the vaguest of directions. This was to begin a painful two-hour ordeal as I tried to get back to Karaj. The driver immediately asked if I knew where we were to go - "Just go to Karaj and I'll guide us from there" I confidently replied. I then stupidly dozed off (as I usually do on the way to Karaj from Tehran) only to wake up in unfamiliar territory - the driver had taken the slow, alternative and unknown route to Karaj. As we entered Karaj I asked him to follow the heavy traffic, assuming it was heading to the center like myself, but soon we were lost. The driver became irate and refused to listen to my father's direction via mobile phone and it was left to me to quiz pedestrians as to the directions. At this point a kind gentleman entered the taxi, offering to guide us to my destination. A short while later our guide left the taxi announcing that this was where I needed to go. "Go on then" the taxi driver said, "this is your stop". The guide had seemingly taken us to where he wanted to go no doubt and further away than where I wanted to go - at my expense! The driver -  a fragile sort, grumbling repeatedly - was steaming as I asked him to drive on while I quizzed further more people. Eventually we arrived, I exited the car, threw some more money in, he threw my bags out, I slammed the door and swore very loudly.