RAMAZAM COMPLETED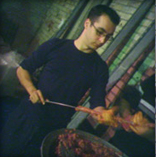 Me making kebabs.


flickr View my photo journal
Water fell from the sky yesterday and the mountain tops became white once again as a sharp introduction to winter weather arrived. This has coincided with the passing of another year's Ramazam of which I'm proud to have completed with only 3-days off.
I usually pride myself on indulging cultures and customs as well as not being shy to try new things yet Ramazam is a far cry from eating sheep tongue. In my ignorance I flippantly took late decision to join many Muslims around the world in daily starvation. And if there ever was a novelty in this practice then it wore off on morning two.
Many adaptations to daily life are made during Ramazam and in Iran - an Islamic state - it's the law to observe these religious requirements. This simply entails no public eating, drinking or smoking during the unusually long 30-days as it was this year. Amazingly it is a punishable offense to publicly neglect these observations as my uncle appreciated last year as he was dragged off to the local police station for smoking in public. In some respects, Ramazam resembles a long holiday due to its limitation on work, and with many religious events scattered through the month it can be a nice escape from the day-to-day life. One such occasion is of great importance to the dominant Shai Muslims of Iran. This is the anniversary of the death of Imam Ali. Importantly he is the first Imam as well as Mohammad's cousin and son in law. By excepting Ali as an Imam you distinguish yourself from the Sunni Muslims who fail to recognise Imams. The ceremony related to his death (lasting a total of 3-days) is conducted in the lunar calendar like Ramazam and thus migrates through the seasons. The remembrance is deeply serious as I was to witness to during two event hosted by my uncle. Many noteworthy guests were invited to his house for a long haul praying session followed by the customary dinner before dawn. Head-to-toe in black, the guests sat in a quiet and thoughtful state before the marathon 2-hour prayer begun. Grown men were folded over on the persian rugs, in tears, at times muttering independent phrases to themselves. Following this I became the focus of much attention as I relayed a dream from the night before where I was having dinner with Imam Ali. Many people sought to read there own conclusions into this, which, even though they were immensely flattering I chose a more logical reasoning.
The following day was to once again leave me impressed with my ambitious uncle who is single handedly highjacking my writings by his activities. As a charitable gesture for the remembrance he set about preparing a meal for all the staff at the sports complex and their immediate family totaling just shy of 470 people. This event was to be the first time I broke my long lasting record of not lifting a finger in food preparation - which ended with 7-weeks of being cooked for and cleaned up after! This record was broken with my making of 10-kebabs semi successfully.
Whilst happily breaking my fast for the last time I questioned what I might have learned from such an experience and whether I might go through this again. Still some days after I have to think twice about eating of drinking as I had adapted to the practice. Amusingly this is a 24-hour occurrence - staring at food or drink without considering it as edible. I don't feel stronger for it, nor more appreciative of food; I have not lost nor gained weight yet I do however feel very happy to have concluded the episode as well as a tad proud.