SMALL TALK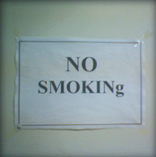 Typographical witticism.


flickr View my photo journal
Being an English visitor to other lands is often frustration and at times embarrassing as being English can often means being uni-lingual, yet not necessarily through desire. The English language has a dominance in important international arenas - be it through computing, aviation or pop-culture - and due to this I am often not far away from people who speak my mother tongue regardless of where I may be in the world. As helpful and as comforting as this may be, it makes my will to learn new languages a little more difficult by simply providing me with a lazy get out plan for expression.
Thankfully though, Iran is a far cry from other countries I've visited in that there are fewer folk for me to be lazy with and I am forced to adopt the new tongue rapidly. My time in Iran has not been totally void of English speaking due to a large amount of my immediate family here comfortably speaking English, yet, the difference has been larger than anything previously experienced. I am however enjoying the frequent moments where I'm being thrown in at the deep end and have been happy to indulge taxi drivers with the smallest of small talk with my limited football banter.
I feel I am currently at a stage of knowing practical Farsi - I can transport myself, get food, make loose arrangements and say which football team I support. With the Farsi script being unfamilar to me (of which I'm very slowly learning) I have a more difficult task from my European language tuition back in the skool dayz where the learning was made easier by the relatively similar alphabet and corresponding sounds to that of English. With that being said I have a lot that is hidden from me until I grasp the new alphabet and structure where I hope I can increase my pace of learning through self tuition.
This new language - in its spoken form - is very familiar to me though. The sounds and accompanying gestures are like mathematical equations - I know the numbers but am yet to learn new symbols for me to understand the results. Or similarly, if you are to hear a sequence of numbers (a person talking to you) and are to repeat back to yourself the sequence (working out the translation), you might only recall a small volume of what was initially said. My time in Iran is like a mathematician's convention therefore and although I wasn't half bad at maths, schools was a long time ago and it's tough to get back into the learning mindset.