IN MUMBAI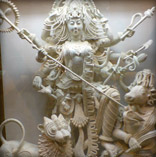 A sculpture in the Prince of Wales Museum, Mumbai.

flickr View my photo journal
"So where abouts in England are you from", asked the gentleman propped at the bar, "Oh I'm not from England my friend, I'm from Iran", I semi proudly responded, cautious to not seem too snooty as I glanced around at the various leathery northern England sorts that out numbered me. I got a similar response then as with all the other times I was asked while away, which was a slight pause in anticipation of a punch line.
I think the slight sense of cultural elevation carried over from stepping into Bombay's attempt of an international airport and seemed to continue throughout my trip. I can clearly remember the smell of Tehran as I first stepped out of the airport nearly 5-years ago and I'm sure the smell of Mumbai will remain just as long. India was to be a recorded for me by smells and it begun there as a waft of warm moist air literally hit me, filling me with memories of my hometown as I sensed the sea being nearby. If I found freedom from the Islamic Republic is was in air quality – I could breath in the literal sense – which was odd as most Indians I met complained about Mumbai's pollution for which could be seen lining the sky so thinly as we landed. I kept tasting the air as we made our way to the terminal at which the smell blended to a slightly soggy, chlorinated whiff, much like that of a water park.
I was in Mumbai for two days where I met my sister who'd been in India for nearly month already. My visit was to coincide her birthday, Christmas and meeting with my mother and a brother from England. My two days in Mumbai were to be followed by four in India's former Portuguese ruled Goa - now very much a tourist spot recognised as much by many Iranians before I left.
There was no consistency in anything I thought as rich and poor shared every square metre that could be found
During the lengthy journey from the airport to the hotel my sister filled me in on her adventures with many a surprising story of her lone travels. I was lost between following this and nine months of catching up as I tried to absorb the scenes from our tin can of a taxi in which the driver repeatedly sat on the horn or shouted some form of abuse when not. There was no consistency in anything I thought as rich and poor shared every square metre that could be found. Animals would do the same as dogs or cows lay rested where they would least be hit. Billboards tried to keep the standard up with their flashy graphics and English slogans but directly below would be families housed in corrugated metal sheet shacks with men idling, women cooking and children playing in the dust. Our journey ended as we reached a part of town that closely resembled Europe with its Gothic sculpted exteriors presumably gifts of the colonial past.
Those two days continue with much of the same as my sister and I chopped it up between rejected the barrage of harassment, "hello, come take at look at these", and the, "sir, can I help you - buy this!". It was a peculiar environment where I would remain baffled by how English was spoken everywhere, even with natives among one another. Think accented nationals would wonder the museums informing their children of the exhibits in English while I would accidentally respond to people in Farsi through confusion of a second language.
Continued
IN GOA
...