TOPICAL EXPLORATION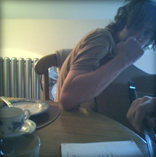 Table talk with friends.


flickr View my photo journal
"Frankly, nuclear weapons in the hands of the Iranians frightens me. They've already stated their desire to destroy another nation", blasted the brother of my mother, throwing in the odd foul word as he silenced the family gathering. I stopped poking at the plastic microwavable trays of Chinese food to look up, my smile was instantly erased as his words found the correct orientation. To my surprise he was not sarcastically echoing the simplistic digest of the media but rather lining up and saluting. My mother's bother doesn't seem to suit this increasing distance between his former leftist tendencies and current opinion yet during a heated debate my many examples of hypocrisy failed to calm his rage – is it because we are the noble and enlightened, glowing with an unquestionable virtuosity?
Many curious minds have been putting questions my way since my return to the UK, keen to test the usual information sources regarding Iran. Somewhat uncomfortably I have once again been providing soundbites and gloss-over commentary presenting an unqualified summary of a nation – and for a pleasant change, the other way around. Many have been pleased that what I tell them isn't as bad as they imagined, yet others are silenced by the differences.
I sat around the dinner table with a friend and his family in the company of a mutual friend who was on a visit from Paris. An awkward silence befell me as I resisted the temptation to trump her stories. It was like I was listening to her describe the erroneous weave of art nouveau craftwork found on the gate of her suburban fortress. Our spectrum of concerns was vast with maybe one of us falling outside of the visible frequencies. I held my tongue however, but these awkward silences haunt me as I struggle to not appear fashionably distressed from my year of topical exploration.
This was my undoing, I unleashed a series of troubling stories that sobered the air and with my every word the hangover grew
"I like the French, they're feisty", remarked a friend while discussing national attitudes and protesting. "You must apply to protest around areas of London", added another friend as the conversation progressed. "This is the same in Iran", I gently contributed before explaining accounts of how things go if one is illegally protesting. This was my undoing, I unleashed a series of troubling stories that sobered the air and with my every word the hangover grew.
In my absence I've been looking forward to talking – in Farsi for a change – with the many Iranian folk in England. Oddly enough the expat Iranian community in my hometown is strong and I've been enjoying my recent graduation and exceptance. "You understand Daveed?" they repeat as I listen to perspectives on matters long gone and buried. Even as I write I'm sitting in an Iranian cafe, listening to the Farsi gossip over the counter, backed by songs I've come to be familiar with. "Yes I understand...", I joyfully respond, partly confused at an Iran they once enjoyed.
"I enjoy traveling America and speaking badly about them to their faces", remarked a friend while updating me about his recent tour, "You know, in a strange way I think they like it", I responded. "So tell me about Iran?!", he requested, confused at my reluctance to divulge. Having seen the latest round of political tug-of-war he was keen to hear my thoughts on the matter. "It seems we've been here before, the Iranians seem to be rightfully defiant", I responded, tired at the reoccurring headlines. "As much as I worry about the expanding rhetoric, it's kinda nice to see someone take a stand against the bullies", I uncomfortably stated. We were careful to agree – but maybe we are yet to be enlightened.