WORLD CUP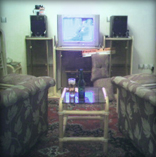 The set up for the England vs Trinidad Tobago game.


flickr View my photo journal
"What does ''ave it' mean?", asked my neighbour who had suspiciously timed his visit to drop off a phone bill during the England vs Trinidad and Tobago game. No doubt he was fascinated to witness how the English support their team as both myself and the remaining English engineer knocked-off early to gear-up for the second game of the opening round. Following my explanation I felt it best to tone down the colourful language exiting my mouth as frustration befell us during the usual nail-biting England game. But, however, my fellow English representative only seem to go the other way, leaping up from the chair as many attempts failed to see the back of the net - "Err, 'twat' means... err, Crouch you lanky sod, what are you playing at?!" I partly explained as the neighbour chose to listen to us over the Iranian commentator.
Iran's qualification for this event has given me the opportunity to curse two teams legitimately, yet on this occasion, from the chair of the lesser experienced nation. Although there are no supermarkets forecasting beer-profits per leg and a considerably fewer flags attached to cars, the excitement is present here nevertheless. Before the first Iran game I sat in a pizza takeaway, impatiently waiting while the staff glared at the TV, waiting for the ten-minutes of adverts to end before the game while failing to attend to my order. As I waited, the streets emptied, as did the sport's complex I work at, houses played host to gathering families and friends and, where possible, TVs were brought to offices, shops and restaurants.
Sitting side-by-side, slouched in single armchairs the junior ranking engineer and I swigged – topless in probably 38-degrees heat – on some 0.0% lemon-flavoured while picking out watermelon pips. Most nights since the beginning of the tournament have been not too dissimilar, give or take a water-melon and the recently installed AC-system. The usual nightly entertainment of the music-player has dropped in favour of channel three, bad language and speculation. Yet sadly the Iran games have fallen during work-hours, but however, creative excuses have not been needed, the place has been vacant of customers and thus more 0.0% have been filling the mouth between bad bilingual language.
I would like to believe this rumour though, that this is something we own, something we can enjoy and that it would be our Iran as we want it to be seen
Rumours have been circulating purporting that Iran were instructed to throw the Mexico game, apparently a mass street-celebration would be too problematic. Although this makes me feel more comfortable about the contrasting poor second-half performance – literally giving the ball away at times – I think this indicate more a bitter lack of appreciation for Iran's limited international experience. Yet, from what I've heard of the much repeated '98 win against America, I can see why such successes might prove problematic, providing a rare moment for public celebration in a country saturated with ceremonies achieving the opposite. I would like to believe this rumour though, that this is something we own, something we can enjoy and that it would be our Iran as we want it to be seen. An unorganised critical-mass, screaming with a joy that cannot be marred by sectarian-sway and yet more interestingly, an outnumbering presence that is not so willing to have the moment stolen.
It was the Portuguese that stole the moment – most certainly – during the second game for Iran. Another surprising first-half performance by an aggressive Iran put us once again at a draw by half-time. Like England before them they seemed unable to realise a goal from the many attempts, yet it was slip-ups that let us down again during the second-half. To lose this game was to mean not going any further in tournament, Portugal denied us more than they may realise and although England shall continue to the next round, keeping supermarkets dizzy from higher percentages – I'll still be left sober with the thought of what possibly could have been.