BLACKED OUT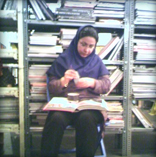 Worker edits a photography book by blacking masking tape then covering offending images.


flickr View my photo journal
"Tell him he's fucked the book", I lazily requested of my translator - "You've ruined the book, we will not pay the full price" my translator politely stated while I pointed at one of the many blacked-out illustrations of women. This was not to be a good case to haggle with however - "I'll get you an unmarked one from the back, you can pay full price for that one" the sales man replied. We both laughed knowing full well that the Islamic editing was the only reason I was purchasing the book in the first place.
The previous Friday at the 19th Tehran book fair I'd visited the same stall, frantically photographing pages of a blacked-out fashion photography book. I wanted to purchase this now unique specimen as I watched a female worker laboriously take a black pen to masking tape before shielding offending skin parts from the Islamic audience. "Can I photograph you editing" I asked her, not expecting a positive response - I was wrong however. She carelessly attended to the pages as I silently observed, fascinated at what did and didn't survive, I struggled to see patterns though. Some legs survived; shoulders were acceptable in one shot but not another; arms wore black scribbles while others wore black masking tape; short sleeves were given to some women while others were fine in just their vests.
Even a kissing couple were met with the marker
A black and white photo of a woman's naked torso became a black square on the page, being
clothed
in three sections of masking tape from the waist up. Men were not excluded in this process, irregular black attire found its way to problematic areas of male bodies. Even a
kissing couple
were met with the marker. No, no, and no - how can so much of the world have it so wrong? I was dumbstruck, yet hooked, I wanted more and feasted on these now one-off anthropological artifacts. With every mark I saw the value increase, with every inconsistency I saw a story in the making, was it outsider art or a found object and how might one exhibit such a piece?
Oddly enough, at one side of the exhibition hall I was selling
items
partly of my creation, pages of digitally blacked-out text made to look like hand editing, demanding the reader to question the words further. Yet, across the hall I stood keen, willing to part with much money for similar yet more RealWorld™ questions. I requested the sales staff to find me further books that were edited, keen to pick a prize and one that would sit among other unique works within an
independent book shop
I help out with back in the UK.
I found my
prize
, a book of contemporary illustrators. Pages soiled with black marker pen, so much so that some pages stuck together. This was an authentic Islamic edited book, invested with much attention and ready for all humanity to view without fear of mental pollution. From a collection of artworks, a new artwork had been made, I did not see this book as being ruin but rather embellished, having added value or just fucked as one might say.