MATERNAL INSTINCTS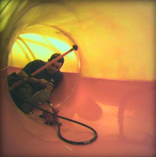 The lower ranking engineer listens to his iPod while fixing tubes together.


flickr View my photo journal
"Take some more film", my father instructed me, "Did you get a picture of this?", he irritatingly repeated, "Make sure I'm in the photo" he went on, making certain that his presence would be known just in case anyone was to doubt his involvement with the construction of two water-slides at the sports complex I work just outside of Tehran. The recent invasion and subsequent occupation by two English engineers constructing these new features has been bringing many similarly odd requests ever since my father collaborated and offered my residence and near 24-hour attention.
These recent days have been spent erroneously translating instructions for the Afghani-hands, "Tighten the bolt", the engineers request, "Close the bolt", I instruct. As time passes, both parties have been learning the common instructions and found some combined understanding, allowing me to resume my usual nondescript activity around the complex. The Afghani-minds are often curious to the English-minds, asking many questions between the, "Tell them to lift" - "lift it up for the love of god!". "How much do they get paid?", ask the Afghani-mouths, yet I avoided informing them that my mind has worked out that at least 100-Afghani-hands are equal to that of each English-hand.
The project-creep has lead me to new territory or maybe a combined new definition, my role might better be described as 'mother'
My role as chef, maid, cleaner, travel guide and translator have been expanding during this occupation. The project-creep has lead me to new territory or maybe a combined new definition, my role might better be described as 'mother' to these guests my father had forced on me. This became clear to me while I was attending to the daily washing up with one eye on the simmering, yet less than balanced evening meal requested and the other on the washing-machine bouncing to the 40-degree darks. "Do you have a coat hanger?", asked the lower ranking guest, holding olive-oil in one hand and tissue in the other. Our base was in need of repair, with a creaky door and a blocked toilet. Like the non-existent AC system, window mesh and broken plug sockets, these things had evaded me – that I might need or even fix these feature had not occurred to me. I unwired a coat hanger and realised that my fussing was only towards transient matters, and it was then that I considered whether my efforts fulfilled that of a traditional and cliched role of a mother. Swinging the door back and forth with a smile I was informed that harmony was restored. I'd never noticed the creaky door before, probably in the same way that they seemed to not notice the seasoning with my meals.
Nightly entertainment still centres around the music player on my laptop, "Do you want to play guess that tune?", I was asked, yet my repeated success was inevitable considering the playlists are mine and I've only imported a hand full of tracks in last eight months. "I can't believe you have no Dire Straits", one of them discovers, "Yes, and no Carpenters", adds the other. Aside from these slip-ups on my part I was disturbed to find how well I catered with the other 2000-plus tracks.
On one occasion the lower ranking guest was in need of nursing after getting what the senior ranking guest called, "Tehran Tummy", following a dodgy take away the night before. These two nations were showing signs of rejection with a shit-awful mess as evidence. With this, my parental responsibilities continue to hang over me, from the 15-minutes preparation time before the guests wake and the hour or so remaining after I put them to bed. I remember the days of 8-hours sleep, the days when I wasn't searching for indications of discomfort, when plans involved less opinions and when I didn't consider I had maternal instincts.