DISTANT BLOOD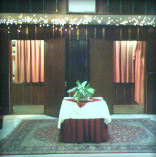 The foyer. Men enter the hall on the left and women on the right.


flickr View my photo journal
"Commas follow words and spaces follow commas", I instructed. "Thank you, so I'll see you at the wedding on Thursday then", typed my cousin's husband following a brief messenger English lesson. "Who's wedding?", I replied, "They're already married", I later spelled out after hearing of this not too distant relative about to tie the proverbial knot – this however was the first I'd heard. Why I was hearing this from a more distant relative baffled me and why my father also knew nothing about this was more intriguing. After consulting the slightly deficient, all-seeing-eye of my grandmother, it became clear that the ever relentless family-politics were very much alive. "You can have my invite", she kindly offered, neglecting to elaborate on what I think she knew.
I got an answer regarding my confusion about why I thought this couple were already married – apparently engagements are often seen as the definitive commitment, where dowries (the sum – normally in gold coins – asked as an insurance policy by the daughter's side) are set between families among other important matters. I have frequently seen engaged couples publicly embraced and even nights shared, whether this is fully acceptable, I'm still not sure – yet with this couple I am convinced I've been told they were fully married. Quite what the issue was with my father and his clan – myself included of course – I did not know, sadly it could have been one of a great many things. I protested as calmly as I could that it was not my grandmother's invite I wanted, but answers and of course the opportunity to freely go to a wedding – one of few occasions where communal joy is legally allowed.
A troubled face befell the father of the bride as he looked into the distance searching for some thought that would trigger his memory as to why he thought that my father and appendages would be out of town. It was a convincing display, probably rehearsed too. I stood before him, dressed for a funeral – which was more in keeping with preference than in protest – accompanied by my uncle who responded with a witty English phrase before leaving me to translate. Surprise befell my cousins and their husbands as they arrived – I struggled to remain objective as they coldly reminded me that I wasn't invited and didn't venture beyond this in our brief foyer encounter.
The non-groom element must simulate the bride in some uncomfortably close gyrating
Surprise also befell the grooms face as I greeted him on the dance floor in the all-male hall. As we circled the groom waving tissues up and down, ducking under the three video cameras, I leant forward and passed a token sum of money like the others around me. This gesture indicated that it was my turn to dance with the groom – such moments trouble me, as it seems as if the non-groom element must simulate the bride in some uncomfortably close gyrating. It was around this time that my attention was stolen as screams of joy were traveling through the curtain that divided the sexes within the hall – just how exactly were the women simulating the groom I thought?
Between the usual buffet dinner of traditional Iranian dishes consisting mostly of rice, I engaged in conversation with the husbands of my cousins. One would pry and the other ignored all subjects except the World Cup. His 3-year old son did much the same, "How are you?", I asked with no answer, "Do you like swimming?", I asked, in an attempt to invite a related topic, yet no answer again. "Can you swim?", blank, "Can you talk?" nothing.
While we waited in the foyer for our respective females I enquired as to where the usual mixed after-ceremony party was. A mumbled response came from the husbands of my cousins, indicating that if there was, they wouldn't bother going. "We'll see you soon, maybe at your wedding, god willing", joked the groom with me as we paced around without a sign of the ladies. "It could be soon if you find me a suitable girl at the after-ceremony party", I planted, but only received silence after his smile of acknowledgment. It was 10.30pm and the foyer filled with the decorative generations of Iranian women, I'd managed to find my aunty whom, although has been in the country for 2-months, I've not seen for nearly two years. It seemed she'd passed me in the foyer along with all three of her daughters – was there something I was missing maybe? A brief natter in the car park was closed short by our waiting cars, it was too early to go home but that's where at least my car was going.
As the dolled-up guests were probably about to find the final event, to mix among more distant blood, I would be going home to find answers among the closest blood after having gate-crashed a family wedding.