IN BETWEEN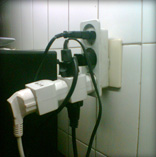 A metaphor if you wish.


flickr View my photo journal
"Salaaaaaaaaaaaaaaaam!", "Seh-laaaaaaaaaaam!". "How aw wooooooo?", "What's the noooooooows!". "Gnawawaaaaaaw, doooodoooboo...". These are grown professional women, married too – this is what I remind myself as I cringe at my desk and push the earphones in further. A hand arrives to my shoulder surprising me, "Day-veeeeeed?", "Yes, morning... nothing, fine, thanks, you? yeah... so...". It wasn't going to go down well but I've finally brought myself to ask, "are all Iranian women like this, I mean, is it cultural?". Mostly it is I am told, two or more women are prone to trigger in close proximity, ascend in pitch before shooting compliments at any possible difference. "Ooooo, is this new? I like your hair! Nice colour!".
"Do men like this, I mean, why are they like this?", I asked, worried to sound critical when really I am fascinated by what it might imply and how this might be. I thought about it, considered my current living situation and saw a link, I have regressed – returned to my early teens.
On a nightly bases I am subjugated to relentless interrogation by my family, all manner of personal questions arrive resulting in unwanted advice or criticism. I've been here before – "it's how they show their love". But my loaded stories of how I've lived alone or with friends, cooked for myself and others, cleaned up after myself, paid bills etc. are met with a curious silence, one of disbelief. From my friends, it's the same, walking anywhere near an oven is met with applause.
"No, when we go to university we leave home, I mean, we want to"
"No, I went to a university about 5-hours away from my hometown", I explained to a friend as I slipped into another comparison of then and here, "you travelled 10-hours a day for university!?", came a subsequent gasp. It was a serious response to a serious response but I laughed upon realising what brought it about. "No, when we go to university we leave home, I mean, we want to". We thought about it, drew silent comparisons and then retreated in the comfort of our familiar ways. Why would I choose to leave my family they must have thought? Naturally I thought much the opposite.
There is no gap, no discovery, no room for mistakes. The people of Iran have a seamless transition from one home to another, from their family to their new family. One is mothered, then a motherer - being mothered till a worrying age or mothering at a worrying age. But there is no means for something in-between, a lesser quality apartment, more time on chores, a greater expense. Women cannot so easily live alone or in groups, nor can they live with any one outside of the family. But then why would they? I mean, what would bring them to think about it?