POPULAR MIX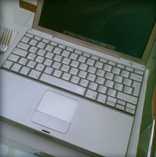 How I see the world.


flickr View my photo journal
"Are they coming? Are the Americans coming?", is a question I'm being increasingly asked - yet the answers to my family's anxious questions change with each day. "Can I go back with you to England - in your suitcase?", asks a distant relative - she's a big girl, but I tell her what she needs to hear.
The increasingly obsessive reading on Iran's near future – or lack of – has led to me being an alternative news source among my relatives. 6-months ago I might have entered their homes dressed in a dooms-day A-board, bringing silence to those that dared inquire, yet shortly after I'd abandoned the opinions in favour of history and facts – thinking it better to distinguish words from events.
I've abandoned this distinction for now though as it appears that the words are the preparation for damaging events.
The '2nd Holocaust' I've heard is a popular mix
Take a few selected moments – possibly true but not essential – frame them in the right way, chuck in some "officials" – whack the blender on [loud whiring noise] and in a remarkably quick time we have a stinky, mucky pulp. These concoctions are tasteless yet easy to digest with many exciting and emotive names - the '2nd Holocaust' I've heard is a popular mix.
For the everyday folk of Iran the noise is disconcerting and rather familiar, yet although we are not the ones swallowing this stuff, we're the ones that suffer from it – even before any bomb has landed.
But we don't recall being asked what power source we'd like and also don't recall anyone suggesting countries be wiped off maps, but we expect to be held responsible for it. We are simply observers, sitting in the stands, able to root for the home-team – to shout, to comment even, but the games goes on despite us. It's the Supreme PR Machine playing at home to the Empire's Noise Engineers, yet worryingly the referee and commentators seem more involved in the game than maybe they should be.
"Two military ships are on their way to the Persian Gulf from the US, – one with anti-missile capability", I inform my family, leaving out any speculation. They are coming, they are here, we are surrounded – I imagine the game will commence once the supporters appear to be sitting comfortably.
RELATED LINKS - These guys say it better than I:
Lost in Translation – Wiped off the map?
Ahmadinejad's interview with SPIEGEL
Iran and impending war
Oil business and war
Wikipedia on Campaign Again Sanctions and Military Intervention in Iran
Scott Ritter: Sleep walking into disaster in Iran
Stephen Zunes: Analysis - possible attack on Iran
Labels: America, holocaust, Iran, media, news, noise, supreme PR machine, war