COMING GOING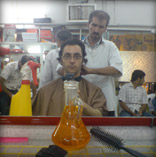 Me, before.

flickr View my photo journal
"Did you do the back?", I asked as I lifted my hand from below the plastic bib to check for myself, "yes, it's just like that guy now", the hairdresser mocked, referring a passport photo I'd stood next to the mirror, one taken roughly a year ago, just after the last haircut. "Did I wear glasses in the last photo?", I then asked, referring to the 'before' picture I'd took before he began – I wanted consistency for the 'after' picture you see – "yes, with glasses", came an unamused response, almost like he'd expected me to ask.
Among all the events over the last year (marked with the unruly curls that were now scattered and sharing the floor) the local cheap-chops had had a price hike, what was the equivalent of 30p for your standard short-back-and-sides was now 40p! Another change that could've been found somewhere amid the arches of the curls would be my ability to grumble about this and be understood, which I didn't do, but I felt it illustrated an important difference made during the time between cuts, one maybe worth the extra 10p.
My recent visit to England was expected to be a little disappointing, I knew I'd have to condense too much of what was familiar and missed into a series of partly overlapping events. I'd expected an amount of adjustment in the plans and tried as best as I could to plan around the inevitable alterations. On the whole I'd successfully managed to spread myself thinly across as larger group loved ones as possible, I'd drawn up plans, listed must-dos and pretty much got there – it was all so unfulfilling though and didn't set a good mood for a return to Iran. Coming/going back, however, was not so easy, but it wasn't just the leaving all the renewed familiarity behind.
yet I'm too aware that I can only hold my breath for so long before needing to be in an atmosphere where I can breath once again
I've often found it an appropriate analogy to describe being in Iran as being underwater – it's like I've decided to dive down to the murky unknown seabed, curious as to what I'll find, curious as to whether it's like they say, yet I'm too aware that I can only hold my breath for so long before needing to be in an atmosphere where I can breath once again. This underwater analogy is often extended and ever more fitting, but I think it helps illustrate where my recent psychological retraction from Iranian life has come from.
When those curls were beginning their first curve so much of Iran was unfamiliar to me, I mostly received the place predigested, presented in English with helpful 3D renderings. Coming/going back last year was easy, the murky seabed still had so much to be discovered, this time around it's different, it's not that I've haven't discovered interesting things, more that the novelty has been lost. I have also now reached a standard whereby I can digest this place first hand, where I have an independence, where I'm able to communicate and where I can grumble about a 10p increase at the local cheap-chops. Yet the price hikes feature low as it is with each day that I discover another thing to grumble about and yet another thing to make me want to resurface.